General Enquiries
09 3727342
EMAIL: [email protected]
WhatsApp Waiheke Wine Tours Ltd +6421438222
PLEASE BE ADVISED OUR TOURS ARE R18 DUE TO THE NATURE OF OUR TOURS AND THE NZ LIQUOR LICENCING LAWS AND YOU MAY BE ASKED FOR ID IF YOU LOOK UNDER 25 AT ANY ONE OF OUR VINEYARDS. MAKE SURE YOU HAVE PHOTO ID SUCH AS A PASSPORT OR DRIVERS LICENSE . IF YOU HAVE TEENAGERS WITH YOU OF COURSE THEY CANNOT CONSUME ALCOHOL UNLESS THEY ARE 18 AND THIS IS AT OUR DISCRETION NOT YOURS.
NONE OF OUR TOURS INCLUDE FERRY UNLESS IT IS SPECIFIED, YOU CAN BOOK A FERRY ONLINE, OR WE CAN DO THIS FOR YOU, HOWEVER IT DOESN'T GUARANTEE A SEAT. YOU MUST QUEUE FOR THE FERRY AND HOPE YOU ARE EARLY ENOUGH TO GET THE FERRY YOU WANT.
Facebook
Book Online Today
Instagram
Find us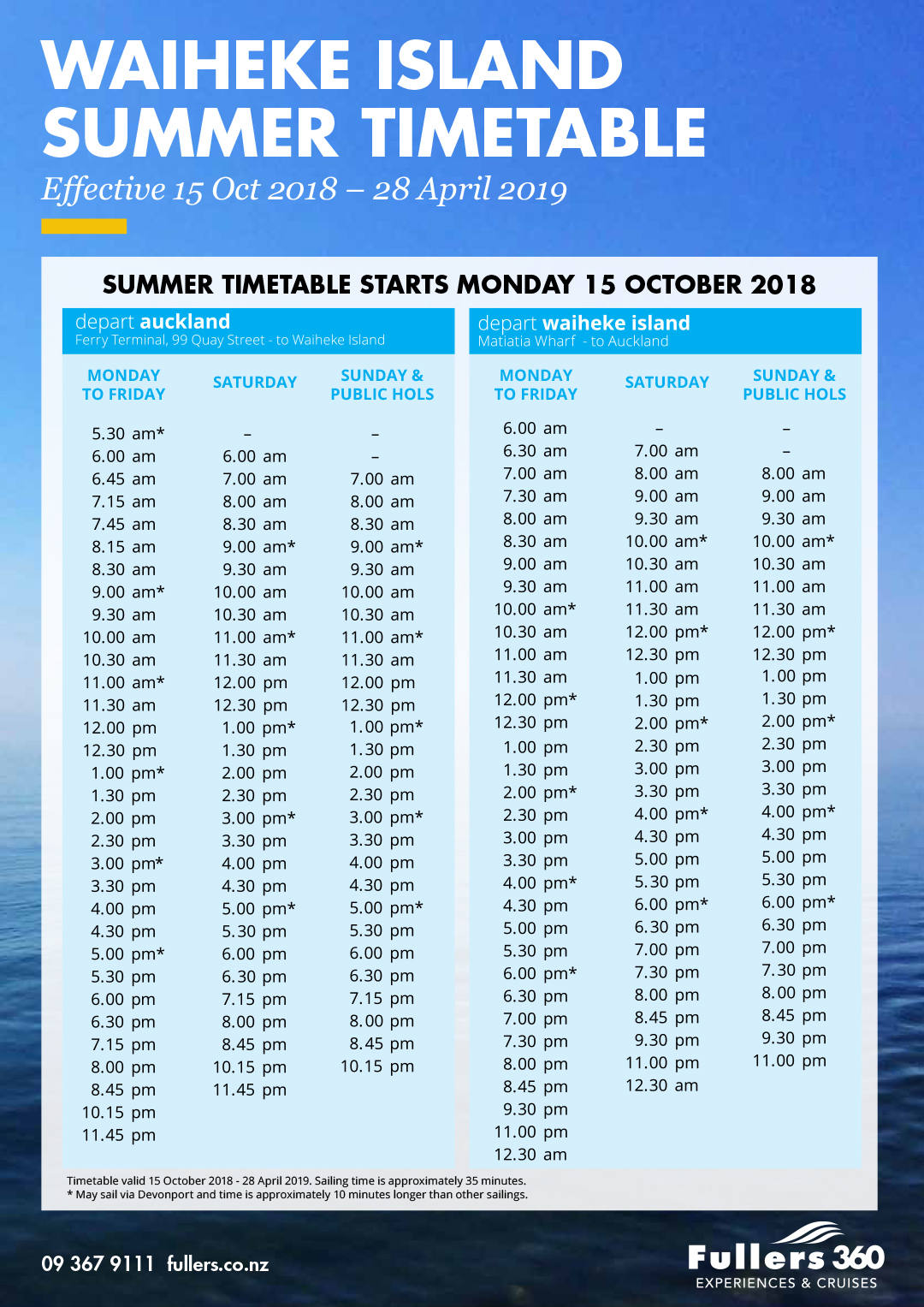 Customer Reviews
My friends and I used Sharon for our hens day out. It was everything we wanted glamorous and gorgeous. Our drivers Greg and Maurice were heaps of fun, friendly and really looked after us. Thanks again Sharon
Had an amazing experience!! Everyone was so friendly and fun to hang out with. Would definitely recommend a friend!
Hi Sharon Just a note to thank you for your service on Waiheke. My girlfriends and I had a great time being hosted by your professional and knowledgable staff. We don't get to go out much for some girl bonding time without kids so this was an important trip for us. Your vehicles are so nice to be chauffeured around in, your team are friendly and accommodating and the tour was simply awesome. We will definitey make this a regular event! Thanks heaps!
What an awesome tour, everything went to plan and perfectly catered for a hen's party. The vans were luxurious and the air-conditioning was amazing!
What a wonderful day my friends and I had with Waiheke-Winetours. Right from the get go, Sharon was amazing on the phone suggesting the most appropriate venues to visit on the Island for our particular group. Then uber friendly Maurice and Greg picked up from the ferry and took us on an absolutey delightful tour of Waiheke Island and these gorgeous vineyards, Cable Bay, Stonyridge, Mudbrick and Wild on Waiheke where we had an awesome platter to share. Thank you so much guys for a special day had by all.
Response from the owner
3 months ago
Thanks Jane your friends were just gorgeous we totally enjoyed the day too lots of laughs!