Wild on Waiheke Wild Day Out Package.
We will pick you up from the Ferry and boost you up to WOW at 1030 for a day of fun Wine, Craft Beer and Food.
We have options for smaller groups up to 11-20 people or larger groups 20 people plus.
The fun can include, Archery + Guns combo 5-20 team members.
Or Round Robin, 20-180 competitors. Archery Laser and Claybird Shooting Great for the competitive types! A Round Robin event where teams enjoy archery & laser clay bird shooting, PLUS a range of Team Tactics in a fun & competitive event. Lots of fun and very competitive, remember to bring prizes for the prize giving as its off the hook.
Or WILD TAG, An archery-tag combat competition which is a cross between paintball, dodgeball & archery! Eliminate the opposing team and score points to win.
The day would look like this time-wise:
Jump on the Fullers Ferry at your own cost at 0940 Auckland Ferry Terminal
We, Will, pick you all up at taking you to WOW to be checked in by 1015am, to start our first game, then lunch a set menu at 12 pm, then back to Auckland for the 230pm Ferry, but of course if you want to do a few vineyards on the way then let me organise that for you too, dropping you at Ferry around 4-5pm.
The food, the wine, the craft beer, the games the whole buzz of this place is awesome, your group will love this day out we get rave reviews.
COOKING SCHOOL or as I like to call it MKR get your teams together for the fight of your life.
The class is run by our executive chef, Connie Festa, who will take you through the step-by-step preparation of four delicious courses with a glass of bubbles to start.
The classes are perfect for an office outing, bridal party or even just for a casual get together with friends.
The four courses will include a refreshing winter gazpacho to start, succulent pork tenderloin stuffed with feta and prunes with a béarnaise sauce for main, followed by two beautiful desserts; our signature Merlot poached pear, and decadent chocolate truffle balls.
Of course, there is also plenty of time to sit down with your friends, relax, and enjoy what you have created.
The class starts at 8am and can be scheduled for any day of the week. CALL ME FOR COSTINGS.
ACTION PISTOL SHOOTING
Have a fun filled, exciting day with friends, family or corporate groups at Peacock Sky for team building or just good old fashioned fun! Learn how to handle an authentic replica firearm (airsoft) in a safe learning environment, practice for a while, then test your skills against the clock. Full instruction and safety gear will be provided for all participants.
Carnival Mode
Re-live the fun of an old-school fairground shooting gallery, with a variety of knockdown targets. Depending on the size of the group and activity level we can make this event a static challenge focused on accuracy (also suitable for disabled guests), or we can incorporate movement to add an additional challenge. This activity is suitable for all ages.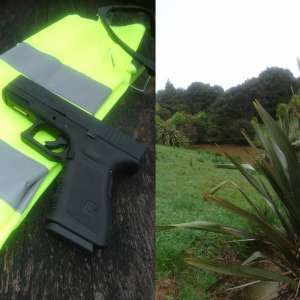 Pricing
4 people $30pp Approx. 45 min. session*
5-10 people $25pp Approx. 60-75 min. session*
11-30 people $20pp Approx. 75-120 min. session* *including 15 minutes of training
Tactical Mode
For more advanced groups we can offer full movement IPSC style courses of fire including moving targets, different shooting positions, use of cover, strong hand / weak hand drills, obstacles including barricades and doors, fully scored and timed against the clock. We can set up a wide range of tactical scenarios including themes like "Hostage Rescue", "Ambush", "Saloon Shoot Out", etc. Call us to discuss available options and any special requests your group may have.
This activity is more suited to advanced players and graduates of our Carnival Mode activity. It may involve assuming kneeling or prone positions and movement across uneven terrain. Suitable footwear is required.
JETSKI HIRE FOR THE MORE ADVENTUROUS + WINETASTING AFTERWARDS
$160 per ski, 30 minutes INDULGENCE HIRE

Book a ski for yourself or share one with family and friends.
Your hired jet ski gives you the chance of freedom, riding your ski as fast or slow as you like, stop for a swim/picnic if you wish, and to visit beaches such as- Oneroa Beach, Sandy Bay, Hekerua Bay, Enclosure Bay, Palm Beach, Onetangi Beach, Pie Melon Bay, Carey Bay, Cactus Bay, Garden Cove, Owhiti Bay, discovering Waiheke Island beaches only accessible by boat.
If this is your first time on a jet ski, you will be given an induction period of training until you and we feel you are comfortable to drive the jet ski yourself. We can ride tandem with you if you prefer.